Hobbies and interests:
I love camping and swimming. I've done genealogy for over 25 years. I spend way too much time on the computer, LOL, mostly on Neopets. I love playing with my grandchildren and my dogs. My grandchildren are Troy age 13, AJ age 10, and Ariel age 7. I have 5 dachshunds, Gretchen age 8, who is the mother of Peaches and Kiara, both age 6. The newest two are two of Kiara's sons, Gremlin and Oscar (named after his father.) They were born December 2001. I also have an 11 year old Australian Shepherd named Fuzzy, also known as Fuzzy Puppy. I love history, especially the Civil War era. I used to do Civil War reenacting. I also enjoy reading about the 1940s and I like trains, especially Steam trains.


Below is a picture of the most wonderful husband in the world and our grandaughter Ariel, sleeping after a busy morning opening Christmas presents!
(In case you noticed the date on the picture, yes, we did Christmas on December 23rd, so that Tony and Tina could spend the 24th with her family and the 25th at their own home.)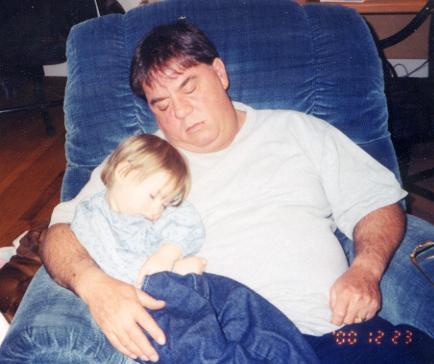 Below: AJ and I on the swing on the deck in summer 2001.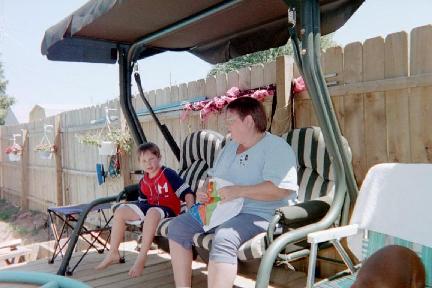 Grandma and Ariel
She won the Halloween Costume Contest