Grumpy Old King
King Skarl listens as you tell your joke...
Q:
Why doesn't you look a herd of cloud Pteri to spending your time with The Swashbuckling Academy?
A:
When They're got him a orb of chokato pink soap Lennies!
Uh Oh... Now you've done it!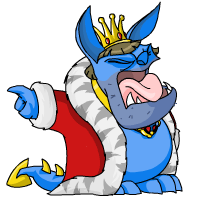 King Skarl Says:
That was the worst joke ever! I only give it
207
out of 1000!
Leave my kingdom now! *Grrrrrrrr*
Something Has Happened!
You are now eligible to use 'Skarl - Moody' as an avatar on the NeoBoards!
Wow... maybe he needs a vacation.